Long Bay Beach is a beautiful, three-mile (4.8 km) beach located on the southeast side of the Providenciales. If you have the chance to see the water, you'll be able to take in the breathtaking turquoise waters that have shallow depths perfect for a myriad of water sports. Like almost all of the beaches you find in Turks and Caicos, the delicate sands of Long Bay are white.
Located on the southern and shallow Caicos Banks side of the Providenciales, Long Bay Beach doesn't experience the typical open ocean swell waves that hit many of the northern and western beaches located on the island, although they do occasionally experience choppy waves caused by local winds.
Long Bay Beach is located in the residential region of Long Bay Hills. In fact, the southwestern end of Long Bay Beach features tranquil stretches of sand and features a number of luxury vacation rental villas – including the Umi Villa. Many of these beautiful accommodations include all of the amenities you could want: kiteboarding spots and access to private beaches. A villa can often be the perfect choice for kiters and families looking to have a private vacation with unlimited access to the water.
Located on the horizon off Long Bay Beach is the grounded wreck of the freighter ship La Famille Express – a popular tourist attraction located 2.3 miles (23.7 km) off the coast, and was later washed onto the shore during Hurricane Frances back in 2004.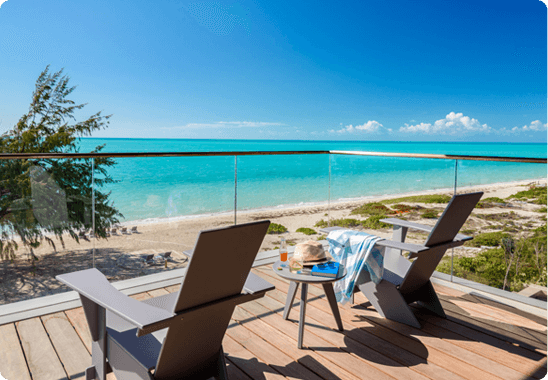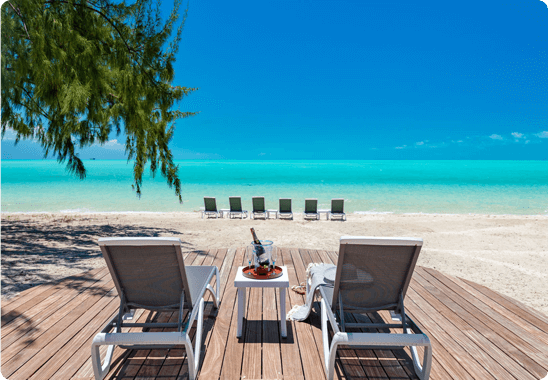 Both long Bay Beach and Grace Bay Beach are incredibly beautiful coasts, but they are quite different from one another. The ocean at Grace Bay has deeper depth closer to shore, however, being on the more sheltered side of the island, their waters tend to be a lot calmer.
There are also plenty of beachfront resorts and hotels available on Grace Bay, whereas Long Bay Beach offers more private accommodations.
As well, it's important to note that location plays a large part in the creation and quality of a beach's sand, and another difference between the two beaches is, in fact, the sand. Grace Bay has younger sand that is far less traveled from its point of origin on the barrier reef, which comes with larger and irregular grains that are quite soft to walk on. Long Bay Beach has sand that has generally migrated a much greater distance across the Caicos Banks, which makes the grains smaller and far more consistent, which makes it more compact.
It's also important to note that Long Bay Beach is almost entirely residential, so guests can enjoy a greater level of privacy – including a beach you may be able to call your own for your trip. This makes it perfect for paddle boarding, swimming, kayaking, jet skiing, boating, kiteboarding, and many more watersports.
While Long Bay Beach offers a more secluded and private experience, it's still well within the reach of restaurants, shops, Turtle Cove Marina, Blue Haven Marina, tour operators, and of course: Grace Bay Beach.
Right along Long Bay Beach, you'll be able to find plenty of access to various rental companies that offer jet skis, kiteboards (including lessons), horseback riding, boat charter, and tours that are more than willing to deliver you kayaks and paddle boards. This makes Long Bay Beach one of the best locations to consider for a Turks and Caicos luxury vacation.
​​What to do in Long Bay Beach
There are plenty of things you can do on Long Bay Beach outside of just enjoying the private beaches and luxury villas. Here are some ideas of fun activities you can do alone or even with your family.

Explore the island
If you look at any photo of Providenciales, you're likely to assume it's simply too good to be true. However, your eyes aren't deceiving you: it really is that beautiful. You can take advantage of multiple stops that you can look forward to seeing such as gorgeous beaches, luxurious marinas, restaurants, activities and so much more. Exploring the island can make sure you make the most of your holiday.

Boating
You're visiting a group of islands. You're bathed in gorgeous weather, sunny skies, and amazingly blue waters with access to so many activities from snorkeling, diving, fishing, and so much more. It's a given that you're going to want to spend a good amount of time on the water. Early morning island hopping is great, afternoon play or sunset cruises, take your pick! Boats give you access to secluded islands and beaches, specific snorkeling spots, and other activities.

Kiteboarding
Did you know that Long Bay Beach is one of the best places to learn how to kiteboard? Perhaps you do because you already love this watersport. However, regardless of your level, the shallow, turquoise waters, steady winds, and great equipment access will make your experience unforgettable.

Jet Ski Tours
Many people will rent a jet ski and jump waves in the same crowded area. However, we personally love the guided tours that take you out for a couple of hours, visit different islands and provide an insider's view of the destination. It's a fun way to really explore the islands.

Snorkeling
You don't need a boat to enjoy the water just about every day. Off-shore snorkeling is another great way to spend some time in the water. Two great spots include Coral Garden and Smith's Reef are easily accessible from the shore.

Diving
Providenciales has the advantage of being well within access to over 70 miles of barrier reefs and walks. Due to this, there is a huge variety of dive sites. Locations off Grace Bay Beach tend to have spur and groove reef formations, while West Caicos offers sheer edges and some spots in the south banks even offer undercut walls. Swim throughs, canyons, and sand chutes are found at many dive sites. Diving in Turks and Caicos will open up doors to this fantastic environment.